Wow! Our week has flown by!
Somehow the week got away from me
and I didn't even post. ;o)
We've been spending the week
doing a variety of miscellaneous things...
grocery shopping, Christmas shopping,
trips to the post office, library, etc...
getting our home cleaning caught up
to prepare to begin our 'schedule' next week,
spending quality time together,
among other things that slip my mind.
When weeks fly by... it is okay with us...
that just means the time that Daddy will be home
is getting closer and closer!
(really excited, inner and some outer giggles!)

Here are a few tidbits from our week...



Beth and Carolynne were tickled when they found
a 'How to Draw...' book.
They eagerly worked on their masterpieces,
which I thought were so precious ...



Will has enjoyed a lot of reading this week
and working on his math...



Ally worked on some of her academics, a sewing project,
and, of course, her music (which we love to hear)...




On Friday, we had a homeschool park day.
It was a bit chilly but the children were glad
to be outdoors to play...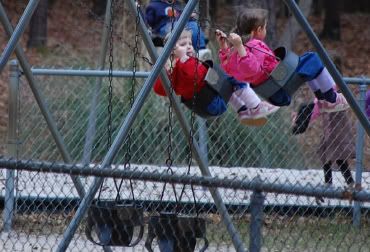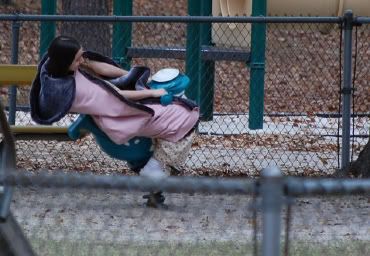 LOL

Also, Friday afternoon, we had our "Friday Friends" over.
The mamas enjoy fellowshipping as the children play.
Interestingly, I caught Ally and her friend
reading on the couch.
It wasn't the fact that they were reading aloud together...
it was the book they were reading...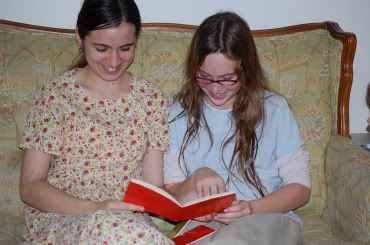 It was a BOB book.
If you aren't familiar with BOB books,
they are early phonetic readers.
I got them out recently to begin using with Beth
and the older girls saw them sitting there
and just couldn't resist. lol


This morning, we headed to the church
to help decorate for tomorrow's special service...



Afterwards, we ran a couple of errands and came home.
This evening, after putting the younger ones to bed,
we began working on our food for tomorrow's fellowship...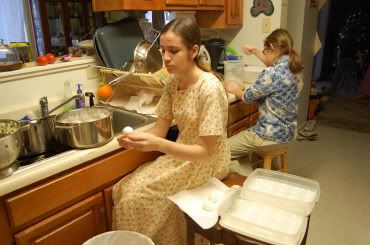 Ally working on the 'doubled' eggs
and her friend helping with dough for

Challah

.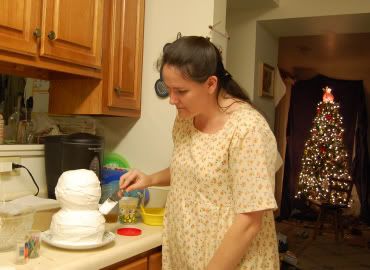 Frosting the snowman cake for the girls.

Can't forget the hat...




Braiding the Challah bread...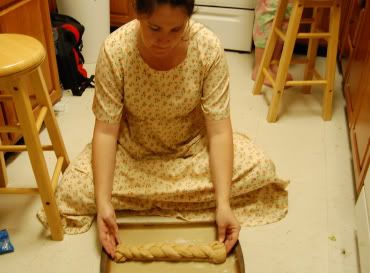 Adding the "snow" to the snowman...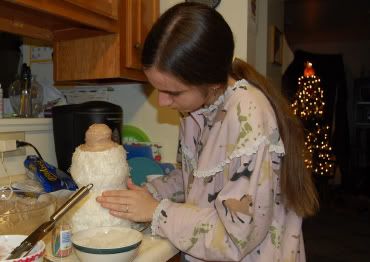 Working in the kitchen together...



The girls and their finished Snowman Cake...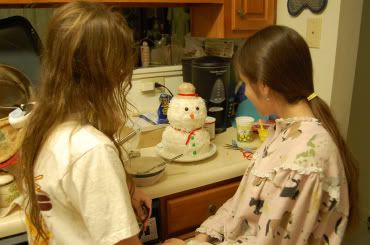 Our finished

Challah

...


oooh... the house smells delicious!
We sure look forward to our Pig Pickin' tomorrow. ;o)
Monday we begin our 'schedule', Lord willing,
but I do hope to find some time to respond to comments. ;o)
I hope y'all have a blessed Lord's Day tomorrow!
I sure am thankful we have a Heavenly Father
that hears and answers our prayers!
He's been showing me some very obvious
answers
to some specific prayers lately.
What a joyous blessing it has been!
God is so Good!
"Call unto me, and I will answer thee,
and shew thee great and mighty things,
which thou knowest not."
~ Jeremiah 33:3
"O taste and see that the LORD is good:
blessed is the man that trusteth in him."
~ Psalm 34:8