Kelli

is

hosting this "New Year Fun"
and I thought it would be fun to participate.
Post the first sentence
of your first blog post of each month.
You can also add a favorite picture from each month.
It sure was difficult to choose the photos!
Here are mine:
~

January

~
Yesterday we saw my beloved off to Iraq.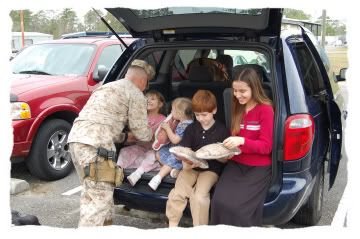 (receiving Daddy Dolls from Daddy before he goes)
~
February
~
Be thou diligent to know the state of thy flocks,
and to look well to thy herd."~ Proverbs 27:23
I love relating this Scripture to my role as a mother!


(photo from Daddy holding a picture that Will drew)
~
March
~
A few weeks ago we ordered a pattern
from
Common Sense Patterns
for a new dress for Ally.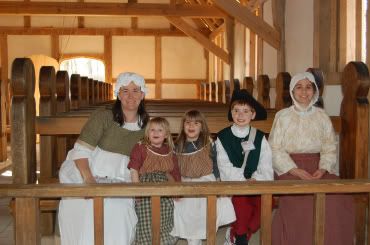 (the children and I sitting in a church pew
during our trip to Colonial Williamsburg and Historic Jamestown)

~
April
~


When your child has been too weak
to play much piano but she has a good day
and decides to play around with a few pieces,
what's a mama to do??
Record it (without her knowing, of course)!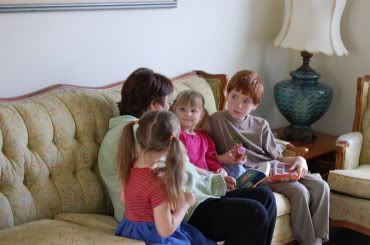 (enjoying our visit from Gramma)

~
May
~


Okay, I guess that should be the other way around...
A new hair cut and a new blog look.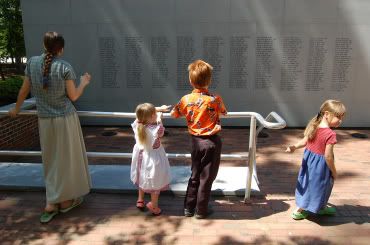 (reading names on Memorial Day)
~
June
~
I am taking a somewhat unexpected
bloggie break for the next day or so.


(Ally baiting her own fishing hook for the 1st time)
~
July
~


Below is the song that Ally and I sang this morning
for our Independence Sunday service...
Bring Back the Glory...


(the younger ones found sleeping in my bed)

~
August
~
The years truly do fly by!

(Gotta share 2 pics for this month!)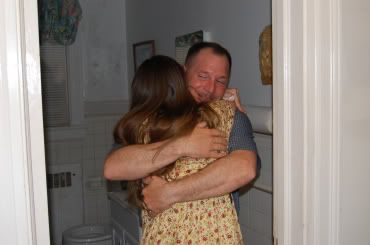 (the children welcoming Daddy home for a visit)

~
September
~


Oh, for Okri...
Where I grew up, in the south and in the countryside,
my grandparents had a decent size garden.


(visit to the ocean during a tropical storm)

~
October
~


I recently received an email from a mama
that was distraught over difficulties
she is having at home,
particularly with a young, school age child.


(singing the Birthday Song to Beth with Ally's violin)
~
November
~
I hope y'all are having a good week.


(children gather around Ally and her guitar to sing
at our church's Thanksgiving fellowship)

~
December
~


Final choices...


(referring to family photos)




"To every thing there is a season,
and a time to every purpose under the heaven:"
~ Ecclesiastes 3:1