I mentioned in my

previous post
that our homeschool group took a trip
to our local quarry on Friday.
We had no idea that it would be so interesting.
We had a lovely time!
Below are some photos of our trip...
Watching rock being dumped
Watching the quarry "dinosaurs" at work


(the workers refer to the machinery as their dinosaurs)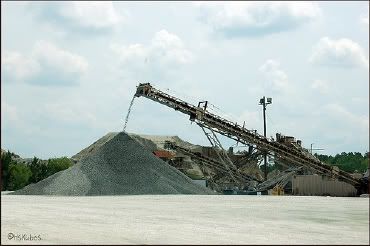 Watching how it all works...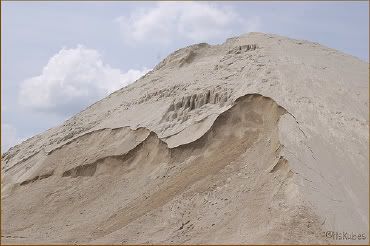 One of the products from the quarry
Photo with one of the quarry "dinosaurs"


A mom of many hats...

A quarry worker of many... bonnets??
Time to go to the pit...
Looking a bit concerned as we drove down...
"Dinosaurs" working in the pit...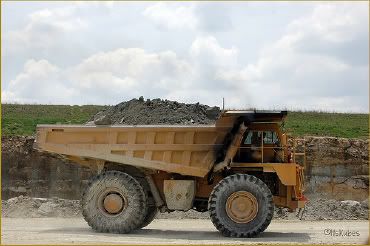 Beautiful layers...
The pit was a total of 60 feet below the surface.


Photo with a "dinosaur"...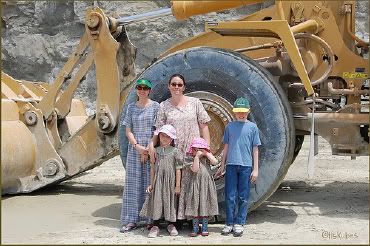 It was VERY bright out

(hence, the squinty eyes)

.
Notice the size of the tire?
The children were amazed it was bigger than them
(and bigger than Mama)

.


At the end, we were able to dig for fossils!
First the children got a mini-lesson
on the appearance of fossils
so they would know what to look for...
They had such fun searching, exploring, digging,
and asking if they had, indeed, found fossils...
(Ally decided to enjoy the air conditioning in the van,
since it was terribly hot)
Carolynne asking if she had found one and what it was
Carolynne looking for fossils
Beth looking for fossils
Will looking for fossils
They found quite a few fossils like sting ray palettes,
shark teeth,
a vertebrate, squid beak, horse teeth, etc...
It was quite fascinating.
And mama even got a little something special, too...
a rock bouquet from sweet Carolynne!
"And he answered and said unto them,
I tell you that, if these should hold their peace,
the stones would immediately cry out."
~ Luke 19:40
"Sing, O ye heavens; for the LORD hath done it:
shout, ye lower parts of the earth:
break forth into singing..."
~ Isaiah 44:23