We've sure been keeping busy lately
and continue to enjoy using

SOW

,
along with our other studies.
I had a few minutes to get online
and wanted to share a few samples
of what the younger ones have done recently.
We spent a week in the beginning of Genesis 11,
discussing the Tower of Babel.
Here is their outline for that week
(which ended up being only one drawing)

...
(you can click to see it enlarged)
The past two weeks we have spent in our recent lesson.
Since there have been 5 chapters of reading,
we have divided them up and read a chapter a day or so
and then worked on adding to our outline.
Here is their outline for those chapters.
(Carolynne & Will decided to color my outline
and Beth drew her own)

...
It has been a continued blessing
to really dig into God's Word!
Here are a couple of pics of the children together...
Beth and Carolynne working on their outlines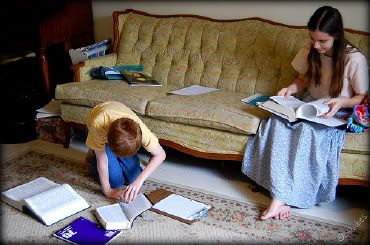 Will and Ally working together on our Bible vocab
Have a blessed rest of the week!
"Study to shew thyself approved unto God,
a workman that needeth not to be ashamed,
rightly dividing the word of truth."
~ 2 Timothy 2:15