I hope y'all enjoyed your weekend.
Saturday, my beloved desired to tackle the garage.
There were boxes stuffed in corners
and stacked against the walls
that we haven't even looked at or touched
since we moved here!
But we enjoyed working together. ;o)
The children, too, enjoyed working with us
and playing in the driveway...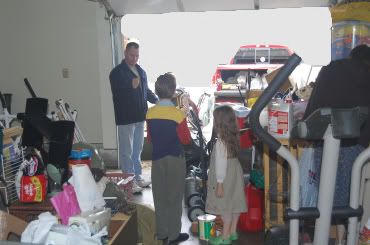 Will and Beth assessing the situation with Daddy




Ally enjoying her old pogo stick. lol




Beth trying it, too (with Daddy's help) ;o)




Beth and Carolynne enjoying all of the boxes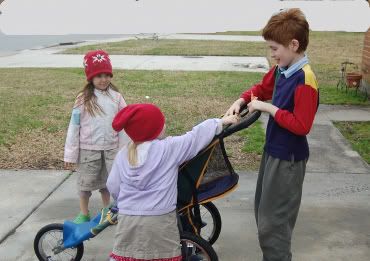 Will, willing to take the girls for a ride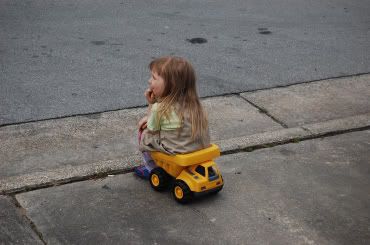 Carolynne... curbside pondering

We were glad to get much accomplished,
though not completely finished. ;o)

Sunday, we enjoyed being in the Lord's house.
We look forward to every time the doors are opened.
Fellowshipping with God's people
is such a special blessing!
During the morning service,
the children recited a Scripture and sang
"Jesus Loves Me/O How I Love Jesus
"
It's always such a blessing to hear them sing.

In the evening service, Ally
played offeratory
and Pastor preached his
Candy Bar Sermon
.
The whole church went home with candy bars. ;o)
Today I am tackling Mount Washmore,
catching up on dishes,
and helping a
friend
with
her new blog
(she wrote a great post today, too)
while the children have been helping,
doing a little schoolwork, and playing.
Now it's time to do a little more laundry
and prepare for Daddy coming home from work. ;o)
The children are tidying up
and I'm off to begin supper.
Hope y'all have enjoyed your day!
"Great is the LORD,
and greatly to be praised;
and his greatness is unsearchable."
~ Psalm 145:3