Since we celebrated

Ally's
15th birthday this week,
I wanted to share a couple of photos...

Tuesday evening, Daddy decided
to make supper and spend the evening
with the younger ones
and sent Ally and Mommy out
for Ally's birthday supper.
Ally chose her favorite place to eat...



We had a precious mother/daughter/friend time.
And she even took her bib home for a keepsake. lol

Wednesday we spent much of the day
cooking for our pastor's family


(to be a blessing as they deal with their recent loss)


and Ally, also, worked on her birthday cake
(which she enjoys making).
She made a Double-Layered Mocha Cheesecake.
We celebrated, after church,
with the cheesecake and rainbow sherbert...




Then she enjoyed playing piano with her new book...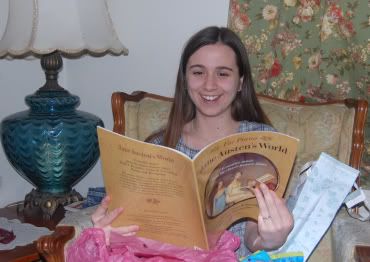 And, of course, we enjoyed hearing her play. ;o)
I do hope y'all have enjoyed your week.
We are still settling in, unpacking things from our trip,
doing laundry, getting the house put back together, etc...
and we hope to soon return
to some resemblance of normalcy.
I have heartfelt intentions of responding to
the many comments and emails I've received
but know that it may take some time. ;o)

I hope y'all enjoy your weekend
and have a blessed Lord's Day!


"My soul longeth, yea, even fainteth
for the courts of the LORD:
my heart and my flesh crieth out
for the living God."
~ Psalm 84:2