Our day started off a little slow moving,
which is a good thing sometimes. ;o)
While I worked on

today's earlier post

,
the children were busy about...




Will and Carolynne enjoyed playing the piano
and singing hymns together.
It was a joyful noise... but music to my ears!




Beth was more interested in doing 'school work'.
She has been a very eager learner this year.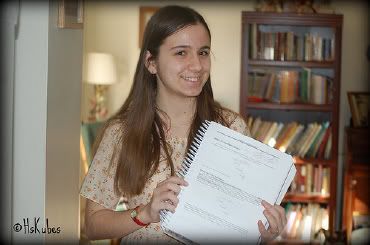 Ally worked on pre-calculus.
The smile is a product of the shortcuts
that she has been learning in the last chapters
(and because she's almost finished with it!).
She, also, had a chemistry experiment,
which always makes me just a tad nervous


(something about playing with dangerous chemicals)

.


This afternoon, we met with Daddy
to renew our DOD (base) stickers
and military ID cards.
The wait wasn't too bad and we were thankful.
This was the last time we'll have to renew
before retirement! (Boy, that sounds weird!)

This evening, Ally made lasagna for supper
and Daddy invited a friend over
since his wife is away visiting family
(miss you,
Lisa
!).
It is such a blessing that Ally enjoys
being in the kitchen!
And the meal was delicious!

Before I go, I wanted to share
a photo from this morning...
It's no secret that Will is surrounded by girls.
And, though, at times he may wonder
what it would be like to have a brother around,
he knows that his sisters
are a special treasure and blessing...



That's the look of a well-loved brother! ;o)
"And the Lord make you
to increase and abound in love
one toward another, and toward all men,
even as we do toward you:"
~ 1 Thessalonians 3:12